What is Real Kids Real Food?
Real Kids Real Food inspires children to eat plant-based, organic living foods by growing and preparing their own food.  Each student  walks away from their weekly, after-school club with a new recipe and the self-confidence to create it at home, thus involving family members in their process. The children experience the seed-to-plant-to-fruit cycle over the school year by studying the biology and chemistry of soil and how the environment affects food growth. Visual arts, music and literature are utilized to support children's different learning styles.
After graduating as a Health Educator from the Hippocrates Health Institute in West Palm Beach, FL, Betsy Bragg became the Executive Director of Optimum Health Solution (OHS), a non-profit, in Waltham, MA.  Real Kids Real Food germinated when Betsy decided to help curb childhood obesity and malnutrition by teaching to children to make healthy choices.  She shared her goals with the adult students enrolled in her 10-week "Eat to Thrive" class, and they immediately volunteered to facilitate the program.
The initial program, a 30-credit, teacher-training course, was launched at the Martin Luther King, Jr., School (K-8) in Dorchester, MA.  Subsequently, at the Elizabeth Peabody House in Somerville, MA, the curriculum evolved into an after-school program. 
Week 1: What is Real Food
Kids identify how many vegetables and fruits that they can name on the first day of the program. By the end of the program, they will know and taste all of them.
Each student drew a picture of himself/herself using vegetables and fruits. (Photographs taken by Christopher Rodriguez, Teacher Assistant)
Week 2: Eating A Rainbow
Marie, Marcelin (mother of Claudermelle, Marcelin) discusses the Real Kids Real Food program, especially about how the program's benefits impacted her healthy eating behavior.
For week 2 we enlisted help from the rainbow. This is a fun and helpful way to thinking of food.
If we remember correctly the rainbow colors can be memorized by the following acronym – ROY G BIV. Defined as Red, Orange, Yellow, Green, Blue, Indigo, Violet.
So let's take a trip down this colorful road – and hold tight we have a surprise color at the end.
Let's begin with the red. Red is for a healthy heart and as such we can associate it with cranberries, radishes, red peppers, rhubarb, watermelon, strawberries, and red apples. The most common vegetable is the tomato. These red fruits and vegetables lower the risk of some cancers and support heart, memory, and urinary tract health.
Moving down the rainbow we come across the Orange and Yellow section. The following fruits and vegetables offer protection from some types of cancer and may improve night vision: mangoes, squash, peaches, papaya, pineapples, cantaloupe, and butternut squash. Along with being very delicious, they promote a healthy immune system.
Green is our next yummy color. This color incorporates everything from kiwi, cucumbers, Celery, broccoli to green apples and cabbage. In order to grow strong, healthy bones these are needed as part of a healthy diet.
The last part of the rainbow is (BIV) Blue, Indigo, and Violet. As a result, you will find a varying degree of 'Blue' in our foods in this section. Blueberries, blackberries, grapes, raisins, plums, eggplants, and prunes are a good fit for this category. This part of the rainbow improves memory, reduces the likelihood of diseases such as cancer, heart disease, and Alzheimer's.
We cannot ignore the many fruits and vegetables that are white. Admittedly, the color white is not in the rainbow. So let us pretend white is the invisible layer after the last color. In this section, we will find yummy bananas, brown pear's, cauliflower, ginger, garlic, mushrooms, potatoes, and onions. These will help lower cholesterol and promote a healthy heart.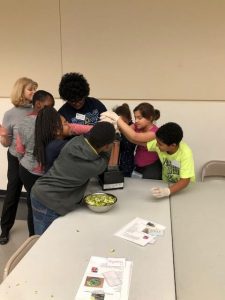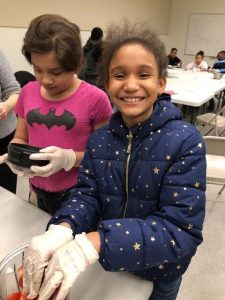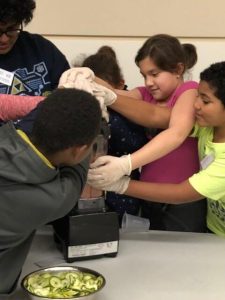 The students are making zucchini pasta with marinara sauce.
Week 3 – Real Kids Real Food
Easy Recommendations to Eating Locally and Seasonally
In week 3 at the Real Kids Real food program we explore the reasons behind eating locally and seasonally.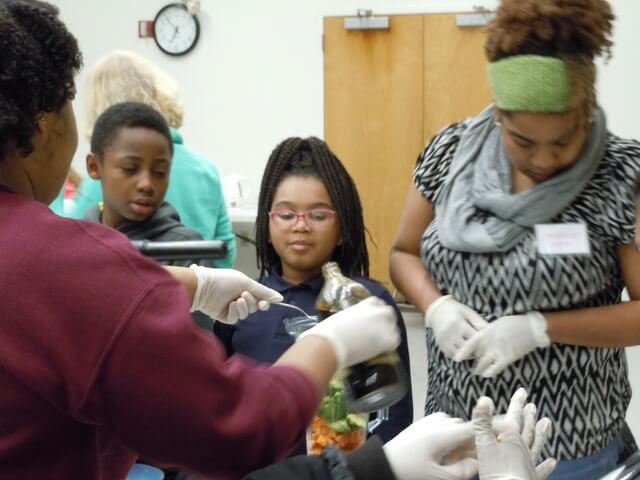 ( Marie Marcellin on the left and her daughter, Claudermelle Gemini, follow this weeks recipe while Jewel Montini measures the Nama Shoyu (organic, fermented, raw soy sauce ).
The following recommendations will help you and your children – or anyone for that matter – eat locally and seasonally.
It's important to understand the reasoning behind eating locally and seasonally. To begin, it follows nature's pattern. Fruits and vegetables reach their nutritional peak when they need to be harvested. They also reach their flavor peak. Additionally, it is more affordable and better for your community's economy – think less gas to ship those vegetables and fruits to your market.
Pro-tips: Kale can be used year round. Farmers' markets will often have samples set out for customer. This a good way to get your kids to try new things. 🙂
Here are recommendations for each season with a mixture of fun and delicious vegetables and fruits:
Winter : bananas, beets, brussels sprouts, cabbage, carrots, grapefruit, kale, lemons, onions, oranges, pears, sweet potatoes, turnips.
Spring : apricots, asparagus, apples, broccoli, collard greens, garlic, lettuce, mushrooms, peas, radishes, spinach, strawberries.
Summer : bell peppers, blackberries, blueberries, cantaloupe, cherries, corn, eggplants, green beans, kiwi, mangos, peaches, cucumbers, okra
Fall : cauliflower, cranberries, ginger, grapes, onions, parsnips, pineapple, potatoes, pumpkins, radishes, spinach, rutabagas, and raspberries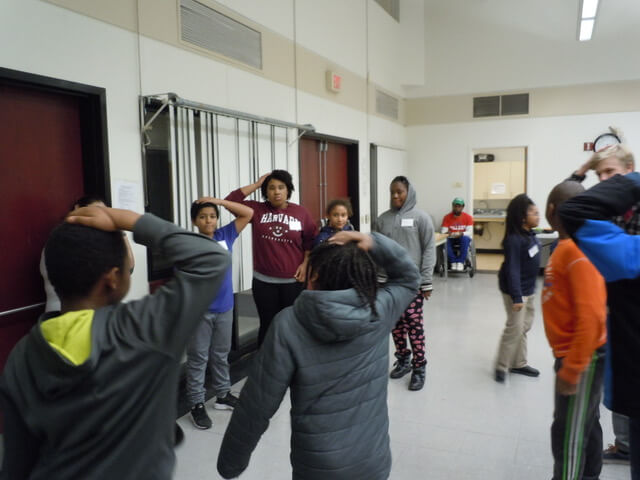 Left : Week 3 playing games – Exercise is just as important as good nutrition. Right : Josie Guerra, one of the 6 TA's instructs Jacob Rodriguez as his Mom looks on. Aidsa Rivera on the left looks on.
Week 4: Sugar Shock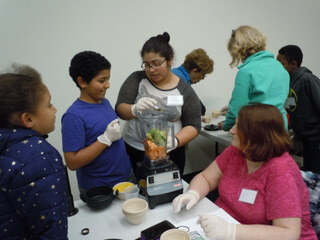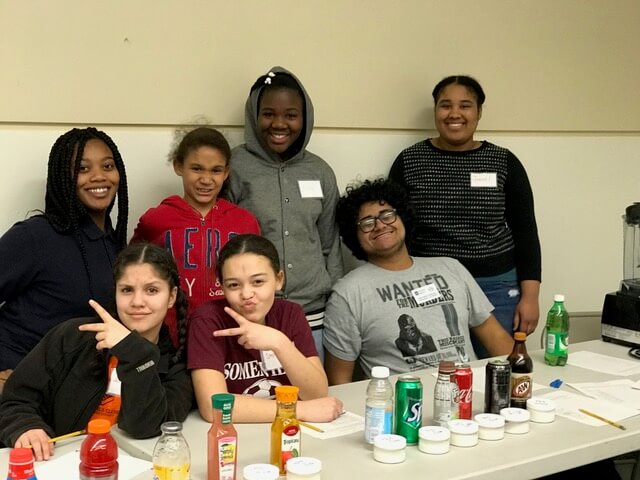 Students of Real Kids Real Food get together and learn how to make healthy fruit drinks.
Kids also participate in a sugar shock activity, which educated them about sugar contents of various drinks.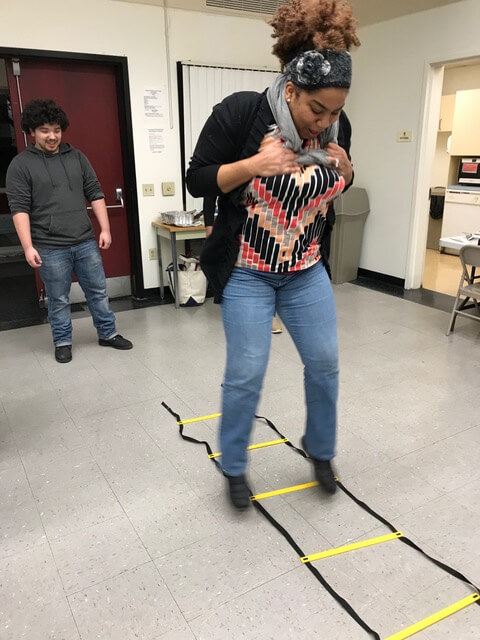 Parents and kids both participate in a fun exercise game.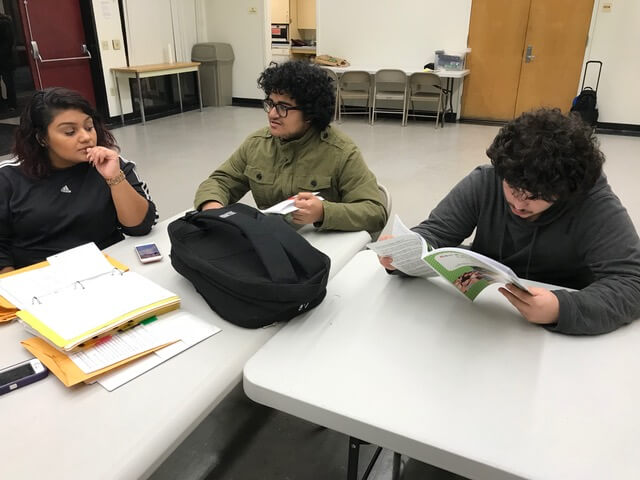 Teaching assistants gather and have a discussion for next week's lesson plan.
Week 5: Fruit Art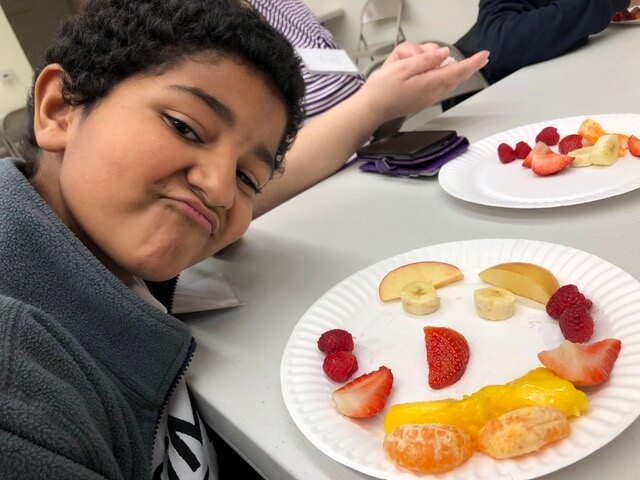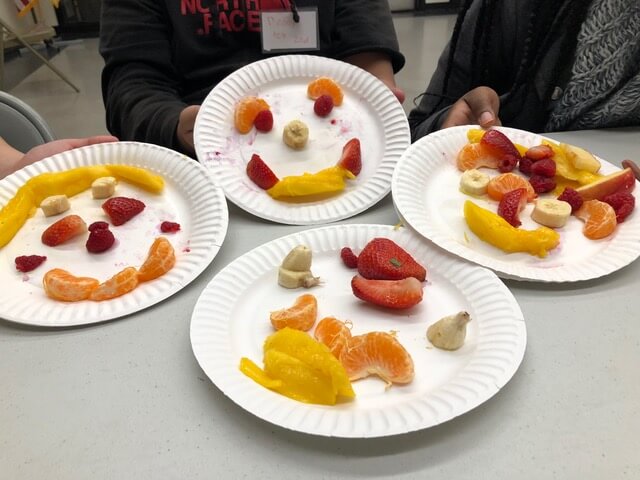 Students of Real Kids Real Food gathered to participate in a fruit art activity.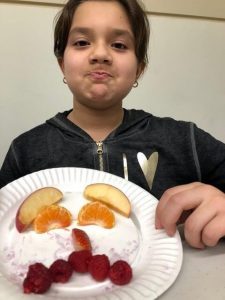 Students were educated about various nutritional values of fruits, while making a facial expression out of their favorite ones.
Powerful Proteins and Kale Chips
Fat and Carob Mousse
Week 8 Learning to Read Labels & Linguini Zucchini with Marinara Sauce"
Worm Composting & Dehydrating Banana Chips & Flax Crackers
"It tastes like a rainbow!" exclaimed 9 year old Carlos. His smile, framed by a green mustache from his freshly-made kale, strawberry, banana smoothie, broadened in delight. "Think it might be good with spinach too?"
Carlos and his family lived in Mystic Public Housing, a low-income housing development with a great after-school program. With limited funds, they relied on cheap, starch-based foods to keep them full, but not energized.
"I was always tired so my mom took me to the doctor," Carlos explained. "When the doctor told us what was wrong, she couldn't stop crying." The pediatrician discovered that Carlos was pre-diabetic and was at risk for developing type 2 diabetes. Fortunately, Carlos attended Real Kids Real Food…
Rosa, 10
My favorite thing about Real Kids, Real Food was the Family Culture Event, where families had to bring different foods from their culture. We had the event in the big room and a lot of families came. My friends Nevaeh and Ronaldo helped me make two different kinds of fruit smoothies. We put strawberries, bananas, and mango in one of them, it was so delicious. Linda brought broccoli zetti and it was so good. It made me like broccoli a lot more.
We did some really hard and fun things like trying to find apples, carrots, and ginger in our garden. We found everything but the ginger, it was under the dirt. We learned so much from Real Kids, Real Food like how to eat healthier.
Tracey Stearn -Mystic Learning Center Staff,
I joined the Mystic Learning Center in November, coming from an after-school program in Havril. When I started seeing kids at my new program eating healthy snacks I thought it was so weird. I mean these kids were asking for hummus and fruit and didn't make sense until I saw Real Kids, Real Food come in. It started to make more sense when I saw how they interacted with  kids giving healthy options and alternatives.
We got spoiled by the program at our Christmas family potluck when they provided the appetizers, which all of our family members thought were amazing.
By the springtime, I grew so attached to the program that I decided to enroll in the instructor Betsy Bragg's Raw Foods certification course. From there we started making big changes to our nutrition program. Our kids are truly enjoying eating healthy foods.
James Holton Fox-Mystic Learning Center Staff
My first introduction to Real Kids Real food was during the fall of 2012. I had just started working at the Mystic Learning Center and was still unfamiliar with the many partner organizations that were teaching classes every week. I found the focus on healthy vegan snacks refreshing in the face of processed sugary snacks and junk food that children are accustomed to.
To the children's surprise, I went for the somewhat exotic foods right away. My love of Kale chips and fresh carrots further cementing my place as a "weird" adult.
Throughout the year while working with Real Kids Real Food, I saw many children become accustomed to and enjoy many healthy eating options they may have been previously unaware of. The program introduces a culture of conscious food preparation, appreciation of healthy alternatives to common foods, and a "try it, you'll like it." attitude that is important for picky eaters to embrace. After several months I noticed children enjoying and choosing healthy snacks that they might have scoffed at the previous fall. Real Kids Real Food has helped broaden the children's culinary horizons.
I noticed that many of the children enjoyed the food preparation aspect of the program. This seemed to be their time to really shine. The children experienced lots of learning through active participation and were proud of the meals and snacks they produced.
Jacob, 6
My favorite thing about Real Kids, Real Food was making smoothies. I got to put bananas and strawberries to the blender all by myself. The smoothies were so good. I now like smoothies more than I like candy. Now I make smoothies at home. Real Kids, Real Food was so much fun.