Jumpstart Fun & Healthy Lifestyles
For Food Insecure Kids
Just $25 pays for the purchase and delivery of fresh ingredients for food-insecure children
to make a nutritional recipe in the Real Kids Real Food virtual program.
Children like nine year old Carlos rely on your generosity to access fresh fruits and vegetables that he needs to grow healthy and strong.
Through his participation in Real Kids Real Food, Carlos successfully reversed his pre-diabetic prognosis, all the while having fun!
Below, he is pictured enjoying a strawberry-kale-banana smoothie, to which he exclaimed: "this tastes like a rainbow!".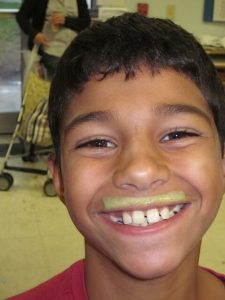 Real Kids Real Food aims to mitigate obesity, chronic disease, and malnutrition in our community's youth.
Your contribution allows our program to be accessible to children of all socioeconomic backgrounds,
therefore helping us to reduce household nutritional disparities. *Your donations are directly utilized to
provide nutritional food and resources for participating children.
Join us in not only feeding America's children, but also educating them!
Thank you for your kindness and consideration.
We are incredibly grateful for our donor support and appreciate gifts of all sizes!
*Donations are not tax deductible.